WELCOME TO:


THE #1 PARTS DISTRIBUTOR in the WORLD
Go to Fifth Marine Division Home Page


---
10200 Page Industrial Blvd.
St. Louis, Missouri, USA 63132-1314
CONTACT INFORMATION:
PHONE (314) 427-7477
FAX (314) 427-8190
PARTS ORDERING (800) 972-7670


We are located in the St. Louis, Missouri area.
---
COMMERCIAL EQUIPMENT INSTALLATIONS AVAILABLE, including
"NEW CONSTRUCTION"
within 250 miles of St. Louis Mo.
COMMERCIAL EQUIPMENT SALES: including,- Ice Machines, Walk ins, Reach ins, Refrigeration systems, HVAC, & all related " PARTS".
INSTALLATION: On all the above items & related items only in the St. Louis, MO. area.

For questions on Construction or Installations
E-Mail Mr Wayne Eilermann, President of Operations

We are pleased to introduce you to our fine Commerical Corporation for PARTS
We are and have been a FAMILY owned and operated business in this area since June 1960!

GET A TOP RATING FROM YOUR HEALTH DEPARTMENT



Please call,

E-mail, fax or "Snail Mail" your information to us for delivery of parts

(800) 972-7670 PARTS
(314) 427-7477 OFFICE
(314) 427-8190 FAX #

---
Navigate this site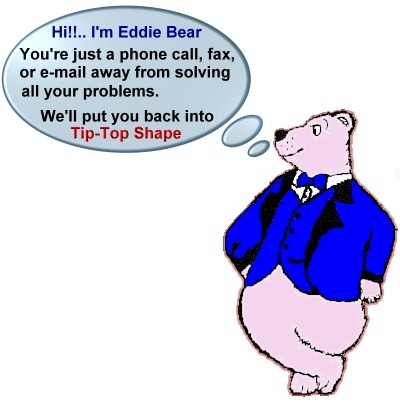 ---
This page was created and maintained by J.J.B.C. Consultants

St. Louis, MO. Copyright©, 1998